Space and luxury, a stone's throw from 

Cahors

Surrounded by the gentle slopes of the Lot's "causses" and nestled within a typically southern vegetation, you have arrived at your destination: the Villa Dal Cayrou. Palm trees, olive trees and cypresses grace this modern villa's landscaped garden. Its straight lines and modern materials make it a suave and discrete luxury home.

The pool is accessed by a large varnished wooden terrace and offers two levels of overflow: the first which sees water pouring down into the pool from the bubble bath and the other at the western edge of the pool where the water seemingly flows out onto the freshly-cut grass. Relaxing on the artificial beach at the edge of the pool is the best experience you will have at DAL CAYROU.

The outdoor furniture echoes the square and linear architecture of the house and invites you to unwind after a moment spent in the bubble bath.

The inside of the villa has been designed with a minimalist approach, with predominantly black, white and grey hues.

The large living area encompasses an airy living room with designer furniture, a dining area with its contemporary fireplace and an American kitchen fully equipped with high-end appointments.

The generous amounts of light beaming into the room make for a very chic and bright atmosphere.

Contrasting with the region's immense cultural heritage, the villa Dal Cayrou tells its own story; that of a young and smart home that knows how to welcome and relax its guests.
The living space, the heart of the property
The impressive size of the room propels you into a new dimension of space and comfort.
Everything has been thought out for the wellbeing of the guests, with plenty of storage space and quality equipment to choose from.
The large table will easily sit 8 people for lunch, the ceiling 7 meters above them.
Guests will be able to enjoy superb views of the garden or the surrounding hills or relax in the sofas to watch a film or enjoy a good book.
The industrial-style staircase leads you, via a 3 meters-long glass footbridge, to a mezzanine fully devoted to sports and leisure. Here you will find a table-football table, a treadmill and an elliptical bike.
A stylish kitchen
The kitchen is open onto the rest of the living space and includes a large working area in synthetic stone as well as a generously-sized table that also makes the corner.
It offers plenty of storage and all the modern amenities you can expect from a luxury home, including an integrated coffee-machine, a microwave, an electrical oven and a dishwasher, all from top German manufacturers.
The hot plates will be the perfect companion for your culinary creativeness for unforgettable times around the table.
Now go and enjoy your meal under the pergola and bask in the warmth of the Lot's summer nights.
Cosy, modern suites
The four double bedrooms of the villa reflect its nature: confortable and understated.
The atmosphere in each of them is calm and soothing thanks to the soft tones of the walls and the equally soft bed covers.
Each room has its own bathroom with monochromatic hues and the latest appointments such as an Italian walk-in shower, LED mirror and flush furniture.
The main suite is generously-sized and very bright, and you can step right onto the terrace if you so wish. Carefully designed, it has its own en-suite bathroom with a stone bath tub and a walk-in closet. Looking out onto the garden through the wide horizontal window you sometimes get the feeling that you are admiring a master's painting.
Their soundproofing has been meticulously cared for and you will sleep in complete calm in some of the best bedding available.
Pour alléger vos bagages, pensez à notre option location linge de lit et de toilette.
Un kit d'accueil vous sera offert à votre arrivée (shampoing, bain douche….)
A wonderful, landscaped garden for plenty of laughs and giggles outside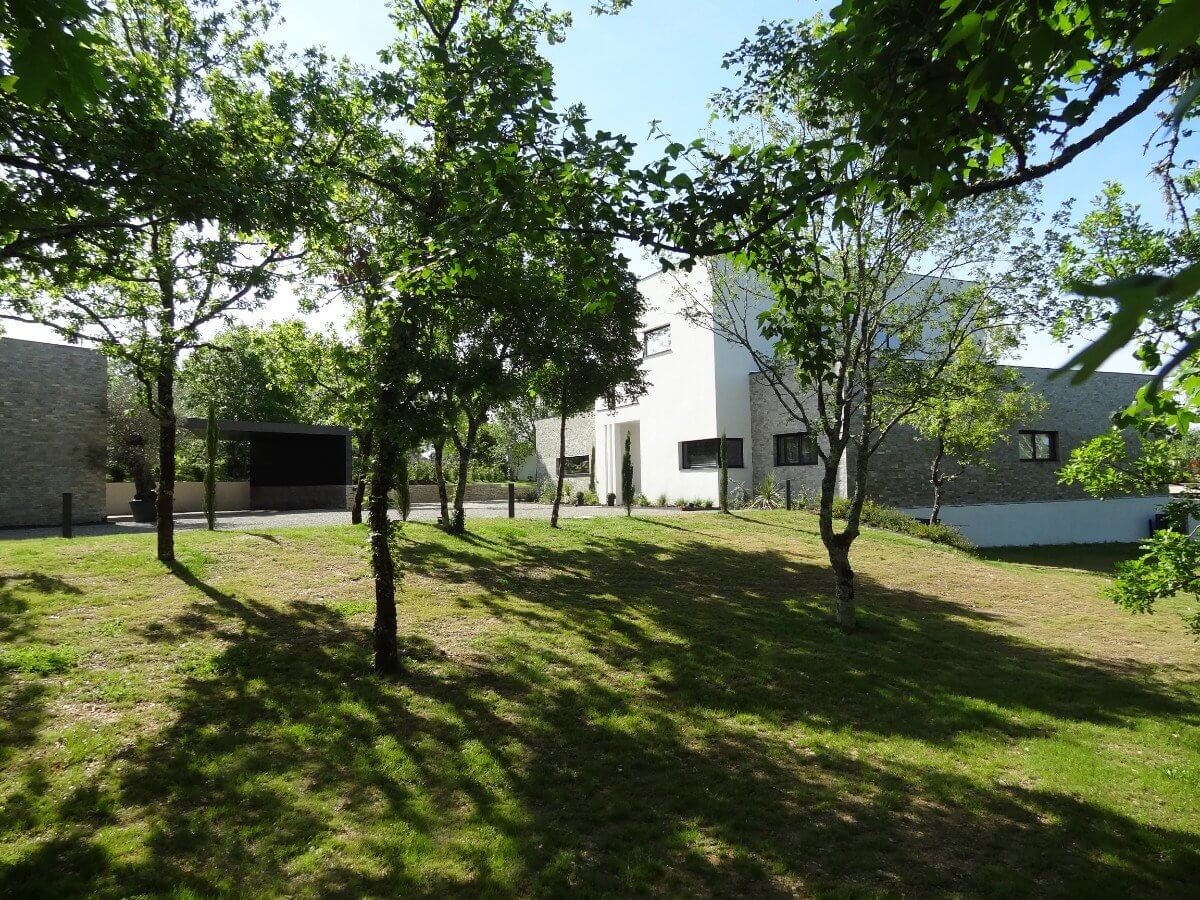 The villa Dal Cayrou really shines thanks to its outdoor spaces.
Its acre of garden is dotted with sundry bushes, trees and shrubs and is the perfect place to reconnect with nature.
Children will enjoy themselves playing ping-pong or picking raspberries while their parents will doze off under the shade of the oak trees.
Coming back towards the huge pool, you'll be delighted to join your friends and family on the terrace for a meal under the shade.
At the edge of the terrace you'll find the sun loungers and the garden sofa waiting for you for the aperitif
Découvrez la villa Dal Cayrou en images
Localisation
Dal Cayrou est à 5 min du centre-ville de Cahors, sur la route de Fumel/Villeneuve sur Lot.
Disponibilités
Nous vous invitons à vérifier dans le calendrier ci-dessous la disponibilité de la villa "Les Cayrous"  par rapport à vos souhaits de séjour. Découvrez ensuite en bas de page comment réserver.
Le calendrier affiche en temps réel les périodes disponibles et celles réservées.

Tarifs
Les tarifs indiqués ci-dessous s'entendent toutes charges comprises (eau, électricité, chauffage, accès internet illimité, accès piscine chauffée illimité, taxe de séjour) à l'exception du ménage fin de séjour obligatoire à 80€.   
| | | | |
| --- | --- | --- | --- |
|  SAISON |  DU |      AU |  SEMAINE |
| Tarif 1 | 01/06/19 |  14/06/19 | 2000 € |
| Tarif 2 | 15/06/19 | 28/06/19 | 2500 € |
| Tarif 3 | 29/06/19 |  05/07/19 | 2800€ |
| Tarif 4 | 06/07/19 | 12/07/19 | 3000  € |
| Tarif 5 | 13/07/19 |  02/08/19 | 4650  € |
| Tarif 6 | 03/08/19 | 23/08/19 | 4800 € |
| Tarif 7 | 24/08/19 | 30/08/19 | 4000 € |
| Tarif 8 | 31/08/19 | 06/09/19 | 2900 € |
| Tarif 9 | 07/09/19 | 27/09/19 | 2500 € |
| Tarif 10 | 28/09/19 | 20/12/19 | 1600 € |
| Tarif 11 | 21/09/19 | 20/12/19 | 1600 € |
| Tarif 12 | 21/12/19 | 27/12/19 | 2500 € |
| Tarif 13 | 28/12/19 | 03/01/20 | 2500 € |
En option :
Option linge de toilette 1 pack comprend par personne: 1 serviette de toilette, 1 grand drap de bain, 1 gant de toilette. (16,50€)

Option linge de lit 1 pack comprend par chambre: 1 drap housse, 1 drap plat, 2 taies d'oreillers. (18,50€)
Cliquez sur les photos ci-dessous pour visiterNos autres villas...