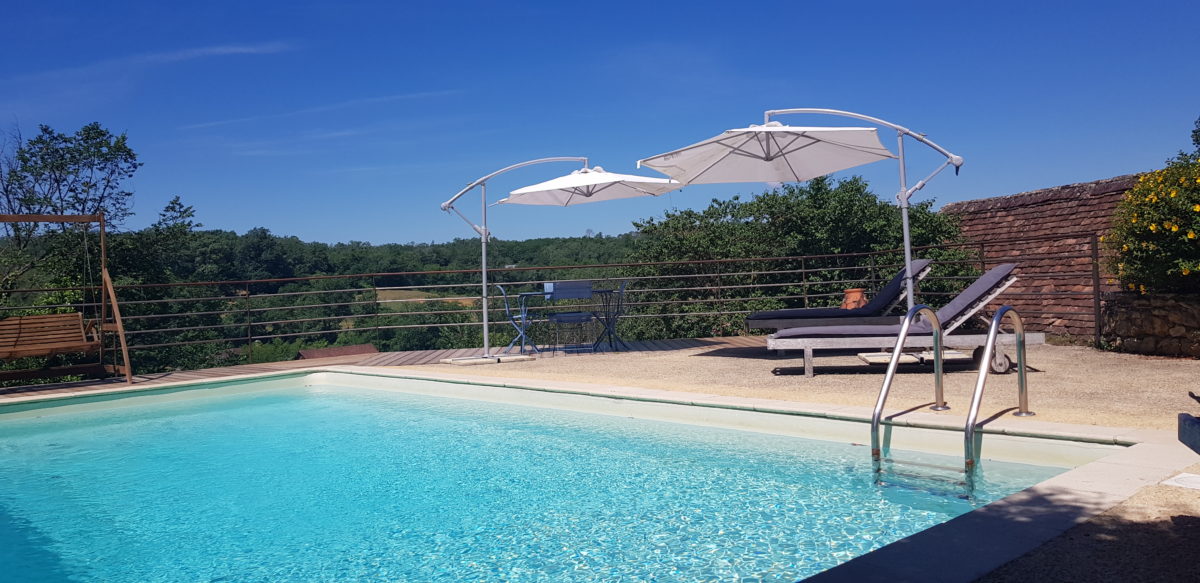 Traditional, rural, bright
At the foot of the old castle of "Milhac", this charming building in stone on the border between the Lot and the Dordogne, has kept its traditional charm. The villa "Les Palmiers" with its 90 m² can accommodate up to 5 people. You're at 7 km from Gourdon (SNCF station, A20 motorway), 55 km from Cahors and 18 km from Sarlat. Open the door and cross the hallway to enter the living room, where you will find a majestic stone fireplace. We wanted a modern decoration in harmony with the stone and the solid old parquet. Dans chacune des deux chambres ouvertes sur la vallée règne une atmosphère calme propice à un sommeil profond. Ici, vous n'êtes pas dérangé par le bruit extérieur et la température est toujours agréable. Dans le jardin, laissez-vous charmer par la piscine  orientée sud avec une breathtaking view over the valley.
The living room is very pleasant with its majestic stone fireplace. It is good to rest and listen to music on this comfortable country-style sofa. The light penetrates generously through the windows on either side of the room, one of which overlooks an old stone sink and another opens onto the valley offering a dominant view.
Always keeping in mind your maximum comfort, we chose this beautiful kitchen equipped with a combined refrigerator, an electric oven, a 4-burner gas hob, a dishwasher, a microwave ……. Functional, it will satisfy you, whether you are a couple or a family of 5 people. Nothing is lacking in kitchen utensils and storage. Added to the equipped kitchen, a pretty buffet thrones in this kitchen to give it a country side. 
We graciously provide cleaning products in reasonable quantities. Garbage bags are also at your disposal as well as basic seasoning (salt, pepper, oil, vinegar...).
Open the window of the first bedroom and your gaze will go far to across the valley. Its country style and beige colors provide a cocoon feeling. It is furnished with a 140 x 190 double bed with two bedside tables and lamps, and a wardrobe shelf with hangers to store your clothes.
The second bedroom in the same colors offers beds for 3 people. A 140 x 190 bed can accommodate a couple and a 90 x 190 bed, an adult or a child. To store your clothes, there is a wardrobe shelf equipped with hangers. A space is arranged for children, where they can watch a DVD on TV or read a comic book. The window opens onto the traditional houses of the Lot village.
To lighten your luggage, consider our option: rental of bed linen and towels.
The bathroom tiled in anthracite tones is practical, with a bathtub and a washbasin on a cabinet.
A welcome pack will be given to you on your arrival (shampoo, shower gel, etc.)
 The main asset of the villa "The Palm trees»Is its 1000 m² tiered garden, partly enclosed at the front. Exit through the glass door of the kitchen and you will come to a bicentennial cottage where we have chosen to install a fantastic barbecue to enjoy meals in an authentic atmosphere, seated on teak furniture. Cross the garden, pass between two palm trees and you will discover thea magnificent swimming pool 8 mx 4 m where the sun dominates from dawn to dusk. We chose to to secure by a fence with a gate.
do not hesitate to dive into this crystal clear water after cooling off in the outdoor shower. For your comfort, we chose not to treat the water with chemicals. Here, the feeling of space and calm is omnipresent and the position dominant offers a magnificent view of nature.
Milhac is 7 km from Gourdon (SNCF station, A20 motorway exit), 17 km from Sarlat and 55 km from Cahors.
We invite you to check your desired dates in the search bar at the bottom of the page. Then to book, let yourself be guided.
The health of our Customers being our priority. We adopt hygiene and disinfection measures for this villa.
Use of disinfectants during cleaning
Disinfection of work surfaces, door handles, switches, taps, etc.)
Bedding and all towels are washed at a temperature of at least 60 ° C.
Arrival day: Saturday at 4:00 p.m.
Departure day: Saturday at 10:00 am
Opening date of the swimming pool: from May 1st to September 30th. 
Salt pool, 8 mx 4 m depth 1.40 m to 1.90 m secured by a lockable gate.
Charges included in the price: Water, electricity, heating, unlimited internet access, swimming pool access.
N'est pas inclus dans le tarif  : Le forfait ménage obligatoire à 110€, le linge de maison  et la taxe de séjour.
Optional household linen price:
Bathroom linen: 1 pack includes per person: 1 towel, 1 large bath towel, 1 washcloth. (16.50€)
 Bed linen: 1 pack includes per bed: 1 fitted sheet, 1 flat sheet, 2 pillowcases. (18.50€)